Last summer, the Chang Family Foundation sponsored its first ever Michael Chang Tennis Classic, a USTA-sanctioned adult charity tennis tournament benefiting the American Red Cross (Japan Earthquake & Tsunami Relief).  The event was welcomed with overwhelming support, greatly exceeding expectations and raising thousands of dollars for charity.
The 2011 tournament garnered over 400 players and hundreds of volunteers.  All players and volunteers walked away with gift bags, along with their own personalized racquet bag tags.  The final day saw a fantastic display of competitive tennis in the Men's Open final, with Robert Yim, formerly ranked #1 nationally in the Boy's 18 Division, edging out Francis Alcantara, formerly ranked #14 in the ITF World Junior Rankings, 5-7; 6-3; 7-5.
While the 2011 tournament was held over 3 days across 6 different tennis facilities, many participants also took pleasure in some of the Classic's special events.
The Michael Chang Tennis Classic kicked off on Saturday, July 23 with a VIP Sponsors' Clinic and Reception at the Racquet Club of Irvine.  Michael and his brother Carl Chang (ATP Coach of the Year in 1996), led the clinic and mingled with the Sponsors and VIPs at the on-site hospitality reception.
The general clinic that followed drew over 120 participants (along with an extensive waiting list) to enjoy expert advice from a star-studded coaching cast including many former successful touring professionals such as Michael Chang, Carl Chang, Eliot Teltscher, Debbie Graham, and Kimberly Po.  Clinic participants ranged anywhere from ages 5 – 70, and all walked away with special goody bags.
The Classic also hosted a special Pasta Night, where players could enjoy free food and pick up some insightful coaching tips from Michael himself.
This year, the Chang Family Foundation is excited to host its second annual Michael Chang Tennis Classic, and is thrilled to help raise awareness and funds for Habitat for Humanity, a charitable organization dedicated to providing affordable housing to families in need.
Come join us for an exciting tournament with a great cause!  It's sure to be a very memorable weekend.
See you out on the courts!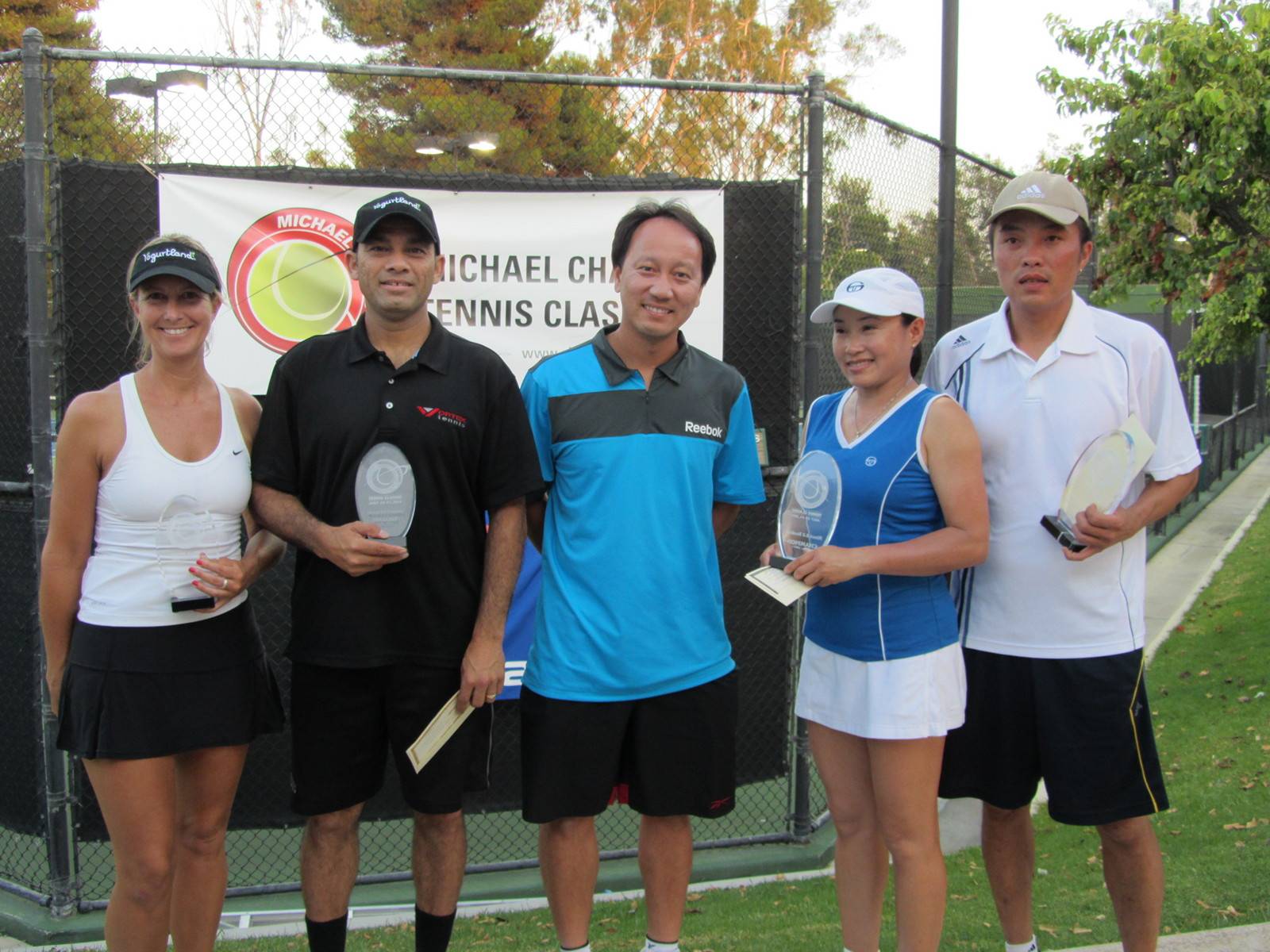 TOURNAMENT RESULTS – July 29 – 31, 2011
Division

Winners

Runners-Up

Scores

Men's Open Singles
Robert Yim
Francis Alcantara
 5-7; 6-3; 7-5
Women's Open Singles
Mazy Watrous
Sabrina Man-Son-Hing
 6-3; 6-3
Men's Open Doubles
Mika De Coster
Denis Nguyen
Justin Agbayani
Francis Alcantara
 3-6; 6-1; 10-8
Mixed Open Doubles
Garrett Snyder
Lynda Xepoleas
Kaitlyn Christian
Josh Martin
 6-1; 6-2
NTRP Men's 3.5 Singles
Frank Seo
ERIC DO
 7-6(5); 6-1
NTRP Men's 4.0 Singles
Adam Miller
Tom Raymundo
 6-3; 7-5
NTRP Men's 4.5 Singles
Rodolfo Jimenez
Teo Risquez
 7-5; 6-3
NTRP Men's 5.5 Singles
Michael Chang
James Dao
 6-2; 7-5
NTRP Women's 3.5 Singles
Patricia Deslauriers
Joanna Grabarczyk
 6-3; 3-6; 6-4
NTRP Women's 4.0 Singles
Angela Weaver
Paulette Mashaka
 6-2; 6-2
NTRP Women's 4.5 Singles
Tina Vuong
Lori Basheda
 6-3; 6-4
NTRP Men's 3.5 Doubles
ERIC DO
Dong Thai
Joe Chang
Chung Lau
 6-2; 5-7; 6-1
NTRP Men's 4.0 Doubles
Adrian Ang
Ismael Casas
Benjamin Hammond
Greg Woodard
 3-6; 6-1; 6-2
NTRP Men's 4.5 Doubles
Richard Layon
Brian Nelson
Ernest Oon
Brian Valparaiso
 5-7; 6-2; 6-1
NTRP Men's 5.5 Doubles
Teet Ratsep
Brian Matek
Steven Arnott
Douglas Mathews
 6-2; 6-2
NTRP Women's 3.5 Doubles
Heather McNabbHiromi Nishimoto
Sophie LamLena Loha
 6-2; 6-1
NTRP Women's 4.0 Doubles
Amy Dobson
Mimi Wagner
Carolyn Boudreau
Cindy Lai
 6-4; 4-6; 7-6(3)
NTRP Women's 4.5 Doubles
Ashley Bradford
Lindsay Chag
Natali Cespedes Gonzalez
Linda Winston
 6-1; 6-1
NTRP Mixed 3.5 Doubles
Lena Loha
Frank Seo
Doug Thai
Shawn Whitmer
 6-1; 7-5
NTRP Mixed 4.0 Doubles
Dina Crump
Simin Yang
Diona Fonte
Rick Gebhardt
 6-2; 6-1
NTRP Mixed 4.5 Doubles
David Le
Tina Vuong
Anne Marie Risquez
Teo Risquez
 6-1; 7-5
NTRP Mixed 5.5 Double
HENRY HUYNH
Kim-Trang Nguyen
Jamil Atcha
Christen Bartelt
 6-4; 6-1